Evolve M3 E-Tronic Exhaust
Sports and race car sounds, from one exhaust.
A unique dual-bypass flow system with wireless valve operation gives you 2 exhausts in one.

E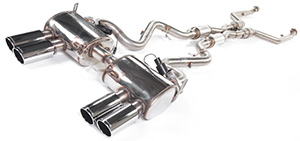 xhaust note and sound level is something that is always a compromise on a fixed system. Sometimes you feel it's not loud enough, other times too loud. We set out to create the ultimate solution. A single exhaust with wireless valve control to select your sound level.
Creating a well engineered product is not so simple especially when you have so many variables such as back pressure, power output, sound volume and sound type in the equation.
Typical dual-sound exhausts suffer from power loss on the quieter settings, and unusable 'loud' settings from simply being too loud.
CLOSED: SPORTY AND SOPHISTICATED
OPEN: LOUD WITHOUT BEING OBNOXIOUS
MINIMAL TO ZERO DRONE
WIRELESS VALVE CONTROLLERS
CHOICE OF ADJUSTABLE TAILPIPES TO ALLOW FOR REAR DIFFUSERS
T304 STAINLESS STEEL THROUGHOUT
Our adjustable tailpipes mean the E-Tronic system fits any M3, including coupe, cabriolet and saloon models